Attractively boxed and suitable for overseas travel and shipping. These beautiful aroma pods have been hand painted by Anthony Hansen. Finely crafted from the iconic and uniquely Australian Banksia seed pod. Includes one mini scent pot & one 15ml bottle of Eucalyptus oil.
Fill the pod with your favourite essential oil. The Banksia Aroma Pod is a NATURAL diffuser and it works by soaking up the essential oil. All you need to do is keep it topped up and to sit it in your favourite space, the Banksia does the rest.
Beautiful natural diffuser

Hand painted from Australian Banksia seed pod

100% Australian made

Attractively boxed, great for gifts
Suitable for your favourite essential oil
Includes 15ml Eucalyptus Oil - the authentic scent of the Australian bush!
(SKU BANKSIA02)
BANKSIA AROMA PODS - 100% AUSTRALIAN MADE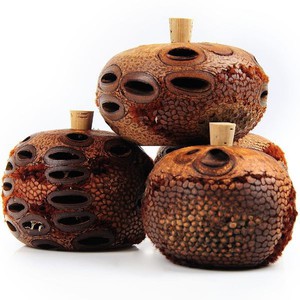 Eucalyptus Oil
Did you know Eucalyptus oil helps cleanse your body of toxins and harmful microorganisms? The most effective way to use Eucalyptus oil is to drop several drops into your Banksia Aroma Pod before going to sleep so you can take advantage of the healing benefits all night long.
Eucalyptus essential oil boasts many benefits including:
Anti-inflammatory
Antispasmodic
Decongestant
Deodorant
Disinfectant
Antiseptic
Antibacterial
Insecticidal