The Marvellous Map of Actual Australian Place Names is a 66cm x 66cm wall map featuring over 1,000 of the funniest, rudest and quirkiest - and 100% authentic - Aussie towns, streets, mountains, lakes and all manner of geographic features whose names may cause your older relatives to spit out their tea violently.
Every location on the Marvellous Map of Actual Australian Place Names is 100% real and guaranteed to cause bouts of childish giggling, not to mention significant kudos for gift-buyers.
From Lovely Bottom (Tas) to Bullshit Hill (SA), from Pisspot Creek (Tas) toTitwobble Lane (Vic), via Pimple (Qld), Pensioners Bush (Tas) and Peculiar Knob (SA), now for the first time ever you can explore, discover and celebrate Australia's truly world-class place names.
Why you'll love the Marvellous Map:
It's classy from afar but very far from classy up close. The

Marvellous Map

is cunningly disguised as a quaint vintage map that nobody will suspect from across the room.
It's the perfect gift for map fans, comedy aficionados, lovers of travel and adventure... anyone, in fact, with a sense of humour or curiosity.
Researched with forensic levels of pedantry and designed with an eye for innuendo, the Marvellous Map is printed in Australia on FSC-approved 150 gsm uncoated paper for that classy, vintage look.
The

Marvellous Map

is - and we hate to admit this - even vaguely educational. You'll definitely learn something about Australia that you didn't know before!
(MAPS03)
Be The First To Review This Product!
Help other Souvenirs Australia Warehouse users shop smarter by writing reviews for products you have purchased.
Others Also Bought
KANGAROO PAW FINGER SALUTE BOTTLE OPENER
AU $29.95
More From This Category
AU $94.95
AU $9.95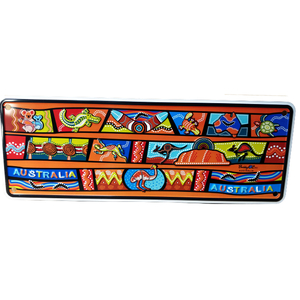 AU $9.70