Aussie Icons - Thongs
A summer staple that cuts across race, religion, sex, style and social status, the almighty thong is one of the world's great levellers - Article by Chris Sheedy (courtesy of Sunday Life Magazine, Sun-Herald 19 Dec 2004)
AUSSIE ICONS - THONGS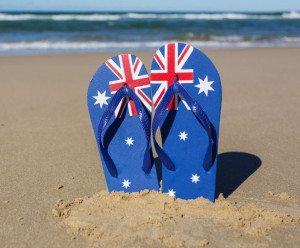 A summer staple that cuts across race, religion, sex, style and social status, the almighty thong is one of the world's great levellers - By Chris Sheedy. (Story courtesy of Sunday Life Magazine, Sun-Herald 19 Dec 2004)
A pair of thongs can be many things to many people. They've been called the mashed potato of the fashion world, they've suffered the accusation of being an Australian national symbol of bad taste and, finally, they've entered the world of high fashion.
There is no single point in time when thongs were invented - since man first wrapped his feet in animal hide, they have simply developed as one of the most basic forms of footwear.. Thongs have appeared in several guises, in every corner of the globe, and are one of the only forms of footwear worn by every social class of every nation.
Just as Australian beachgoers wear thongs to protect their feet from the scorching sand so did ancient Egyptians don thongs in the desert more than 5000 years ago. A sandal found in Oregon has been estimated to be about 9000 years old and rock paintings from more than 15,000 years ago show evidence of foot coverings.
In a paper on the history of thongs, written by Cameron Kippen at Curtin University of Technology in Perth, it's reported that the soles of primitive thongs and sandals were made from animal hide, leaves, bark or wood. A 3500-year-old pair of papyrus sandals is currently on exhibit at the British Museum.
As much as we'd like to think thongs are as Australian as meat pies and Holdens, the modern thongs with a rubber sole were first produced in New Zealand in 1957 and are now as likely to be seen on the feet of fashionistas in New York and rickshaw drivers in alleyways of Bangkok as on beachgoers in Australia.
Since their original production, thongs have changed very little in their design but slap on a brand name and the price tags take on a life of their own. While you can pick up a pair of plain Havaiana thongs for about $17, Burberry flip-flops can be found for $108, Helmut Lang for a mere $160 and Gucci for $315. Now that's burning rubber.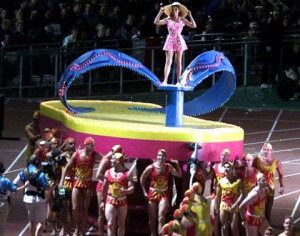 Kylie Minogue on a giant thong at the
Sydney 2000 Closing Ceremony
Time Line
3000BC - Egyptians wear early versions of thongs made from papyrus or palm leaves.
1957 - New Zealander Maurice Yock invents the "jandal", believed to be the first thong with a rubber sole.
2000 - During the Sydney Olympic Games closing ceremony, Kylie Minogue is hauled towards centre stage on a giant thong.
2002 - Sarah Michelle Gellar wears thongs with her wedding dress as she marries Freddie Prinze Jr.
2004 - American super twins Mary-Kate and Ashley Olsen put their name behind a pair of sheepskin-lined thongs, perfect for a mild winter.

WANT YOUR OWN PAIR OF AUSSIE THONGS?
Check out our range here - https://www.souvenirsaustralia.com/hats-clothing/thongs-footwear/
Sam Kopuz
Owner/Manager
Souvenirs Australia Warehouse
souvenirs@souvenirsaustralia.com