Afterpay Now Available to Our Australian Shoppers
October 2018 - We are pleased to announce that we are now able to offer Afterpay payments for all our products (Australian customers only at this stage).

We are hoping to be able to extend this option to include our international shoppers as well some time soon!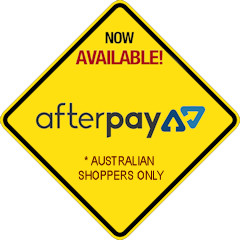 HOW DOES AFTERPAY WORK?
Afterpay is the new way to shop!
Afterpay offers simple and affordable instalment plans for online and in-store shoppers. The payment platform allows you to purchase in four equal instalments, due every 2 weeks. For example, if you purchase an item for $200, you pay 4 instalments of $50.
There is no additional cost to use Afterpay so long as you pay on time. All of your payments are interest-free and you will receive your order straight away.
IS AFTERPAY AVAILABLE TO EVERYONE?
Unfortunately at this stage Afterpay is only an option for Australian shoppers.
WHERE CAN I GET MORE INFORMATION ON AFTERPAY
Please visit https://www.afterpay.com/ for full details.
Happy Shopping!
Sam Kopuz
Owner/Manager
Souvenirs Australia Warehouse
souvenirs@souvenirsaustralia.com